A number of people have asked me to post articles that I wrote recently on the late Martin McGuinness. So here they are. Enjoy: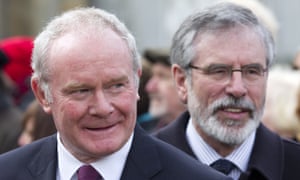 For reasons that are entirely understandable, Martin McGuinness's role in the latter years of the peace process – his emollient time as deputy first minister at Stormont, his unlikely friendship with Ian Paisley, his willingness to charm and delight the Queen – have figured most prominently in the commentary that has followed his expected yet terribly sudden death.

Almost forgotten in all this is the real part played by McGuinness in steering the IRA out of war, a role that made him, arguably, the more significant partner in the collaboration with Gerry Adams. While Adams was undoubtedly the intellectual force behind the IRA's eventual exit, he simply could not have done it without McGuinness by his side.

Adams was the IRA and Sinn Féin's supreme strategist, but he was never trusted by the IRA rank and file. The organisation always judged and valued its members on the basis of their willingness to, as they say, "do the business" and Adams simply had never done "the business". In all my years reporting on the IRA, I have yet to meet someone who was on an IRA operation with Adams or who saw him fire a shot in anger. He was the general who rarely visited the trenches.

McGuinness, by contrast, went out on operations, was a man of action and inspired fellow activists by his example. In his report on Bloody Sunday, Lord Saville concluded that as McGuinness wandered through the Bogside that day, he was "probably" armed with a Thompson machine gun and "possibly" fired a shot at British troops. It is inconceivable that Adams would have done the same.

McGuinness was also, plausibly, one of the most successful IRA chiefs of staff during the Troubles. He took over the job in early 1978 at a low point in the IRA's fortunes. The organisation had been decimated by a lengthy and futile ceasefire, its members were being imprisoned at record rates and he was charged with overseeing a radical reorganisation.

Defeat stared the IRA in the face but under McGuinness's leadership it revived and its killing rate slowly rose, never returning to the levels of the early 1970s but reaching a sufficiently significant level to restore the Provisionals as weighty players on the Northern Ireland chessboard. As the IRA's military commander, it was McGuinness's job to give the final approval to operations and it was in that capacity that he gave the go-ahead for two operations that internally sealed his status as a military leader.

On the morning of 27 August 1979 an IRA bomb exploded on a boat near Sligo , killing Lord Mountbatten, the Queen's cousin, two members of his family and a local boatman. Later that day, in an intricate ambush near Warrenpoint in County Down, IRA bombs killed 18 soldiers, 16 of them members of the Parachute Regiment, a unit of the British army loathed by many nationalists for their role on Bloody Sunday.

It was a horrific, devastating, violent day – and the worst loss of life suffered by the British army during the Troubles – but a spectacular success for the IRA and for McGuinness (doubtless adding an awkward poignancy to his subsequent encounters with the Queen). It meant also that McGuinness was now a major player whose approval and participation in future Provisional IRA strategy was vital.

Just three years after that dreadful August day in 1979 and barely months after the last IRA hunger striker to die in the H Blocks of Long Kesh was laid to rest, Gerry Adams began the slow, secret diplomacy that nearly two decades later would produce the Good Friday agreement.

Adams' initiative suffered from two significant deficits. One was that the inner logic of the stratagem pointed to a rundown of the IRA and an acceptance of Northern Ireland as a constitutional entity – both of which were heresies at the time.

The other was that lingering lack of trust in him from the IRA rank and file. Not only did Adams not have a name as an "operator" but he was widely suspected of harbouring ambitions to be a politician, a dirty word in hardline Republican circles.
And so Adams turned to McGuinness to play the part of guarantor, to assure the IRA volunteers that the initiative was not a prelude to a sellout, that it simply could not be because McGuinness, the trusted soldier, the man who killed Mountbatten and planned Warrenpoint, would not be part of it, if it was.

When a stable power-sharing government eventually convened at Stormont, McGuinness took to it like a duck to water, first as an assiduously immersed education minister and then as a soothing deputy first minister, first under Ian Paisley, then Peter Robinson and finally Arlene Foster. Few bothered to ask the obvious question. Why hadn't the party leader, Gerry Adams, taken the top job at Stormont? Was it because Stormont was synonymous with partition, or that as deputy prime minister he would have to shake hands with the Queen, or don white tie and tails for those Windsor Castle banquets?

Joining the establishment eroded McGuinness's status in the eyes of many of his former IRA comrades, although he remained enormously popular with ordinary Catholics. The Martin McGuinness of 2016 could not have delivered the IRA of 1994 into a ceasefire. But by then, it didn't matter.

So, the big question is this: was McGuinness genuine about seeking peace or was it forced upon him by a growing awareness of his own mortality and the numbing futility of endless, increasingly pointless violence? Or was the reason more prosaic and urgent, that British intelligence had a death grip on the IRA and had so heavily infiltrated its ranks that a miserable defeat was just a matter of time? Common sense suggests that it was probably a mix of all the above. Only the man himself could answer those questions but one thing I am sure about: he would never do that.
Ed Moloney: He was savagely cruel, but only McGuinness could end the terror
In McGuinness' case, he was the IRA leader who had conducted an orchestra of death and destruction for most of his republican career but became the man of peace who helped end decades of strife and violent death – or at least that is how much of the media greeted his passing in Derry on Tuesday morning. Not everyone joined in. Norman Tebbit, the British cabinet minister whose wife was permanently disabled in the 1984 IRA bombing of the Tory Party conference in Brighton, said the world was 'a cleaner and sweeter place' without him.
There's no doubt however, that the bulk of the media by far preferred 'the Chuckle Brothers' angle to the story. It played handily into a Biblical metaphor. On the day of his death, I almost lost count of the number of times that journalists asked if I could pinpoint Martin McGuinness' Damascene moment, the point in his life when he turned away from violence and embraced the path of peace to sit on the staircase at Stormont grinning alongside Ian Paisley.

I replied that I couldn't because I didn't think there was one.

I had in my mind as I fumbled for an answer the story of Caroline Moreland, a 34 year old single mother of three from West Belfast who had betrayed an arms dump containing, I believe, just a single IRA rifle. The IRA discovered her treachery in the summer of 1994 as the first ceasefire of the peace process approached.

Given the political delicacy of the moment, her fate was debated at a meeting in July of the IRA's seven man (no women) Army Council whose chairman at the time was Martin McGuinness.
There was no disagreement about her fate. She would die for her moment of weakness because to let her go would send the wrong message to an IRA grassroots already uneasy about the talk of ceasefires and sellouts.

The real debate was about what to do with her body afterwards. Most wanted to do what the IRA mostly always did, which was to leave it in a public place as a warning to others. But, my sources told me, McGuinness argued that she should be 'disappeared', her remains hidden in a secret grave so no-one, not least those in government and the media sceptical about the IRA's peaceful bona fides, would know that she had been killed.

McGuinness lost the argument, Caroline Moreland was shot dead and her body dumped near Rosslea in Co Fermanagh. A few weeks later the IRA ceasefire was called. In the euphoria over the cessation poor Caroline Moreland was forgotten, except by her grieving children.

So how does this square with the 'Martin McGuinness as the man of peace' narrative? I don't think it does. While some would argue that Caroline Moreland's violent death helped settle grassroots IRA nerves and was a necessary sacrifice to keep the rank and file on board for the larger peace process enterprise further down the road, that argument dissolves if her body was dumped in a secret hole in the ground and no-one knew what had happened to her. Instead it becomes an act of callous, selfish cruelty.
Martin McGuinness' life is replete with examples of similar savagery, some of which he had a direct hand in. Leave aside for the moment that he gave the orders to kill Mountbatten and the ambush at Warrenpoint, which can be explained, if not excused, as acts of war. But what about Patrick Duffy, a 37 year old father of seven, shot dead as an informer and his body 'disappeared' in a Co. Donegal bog in August 1973 when McGuinness was the local IRA commander? Outrage on the part of neighbours and even fellow IRA members forced McGuinness to arrange the return of his lime covered corpse. Otherwise Pat Duffy would have been lost to his loved ones perhaps for ever.

Or Patsy Gillespie, a lowly worker in a Derry army base, forced to drive a van packed with explosives to a military checkpoint where it exploded, killing Gillespie and five soldiers. The attack, dubbed 'a human bomb', was approved by McGuinness in his capacity as IRA Northern commander and was the first of several such attacks.

 Or, Frank Hegarty, an IRA informer who fled to England when an arms dump under his control was raided by Irish police, blowing his cover. He took refuge in a safe house provided by the authorities but was persuaded to return to Derry by his mother who had in turn been assured he'd be safe by McGuinness. According to one account the IRA's then Northern Commander promised Hegarty's mother 'on bended knee' that her son would be safe to return to Ireland.

Within hours of his return his bullet-riddled body was found near Castlederg in Co Tyrone. A correspondent to my blog, thebrokenelbow.com, recently commented about the Hegarty killing: 'In the annals or armed republican history, I think this event is almost uniquely evil – to make a mother unwittingly complicit in the killing of her son.'
Or James and Ellen Sefton, killed when a booby trap bomb exploded under their car in North Belfast in June 1990. James Sefton had quit the RUC Reserve four years earlier after an IRA mortar bomb attack on a police station in West Belfast had killed a colleague and injured him. He was living quietly in retirement with his wife when their lives were taken. James had long ceased to be part of the Crown forces and his wife's only crime was to married to an ex-cop. The attack was approved by McGuinness as Northern Commander of the IRA.

Martin McGuinness also lied repeatedly about his life in the IRA, lied more, perhaps, than Gerry Adams. The Sinn Fein president has repeatedly denied ever being in the IRA whereas McGuinness maintained that while he was a member in the early 1970's he quit the organisation in 1974.

That's one more lie than Gerry Adams has told about his life; first that he left the IRA, which he never did, and that thereafter he was never a member. Not only he did not quit in 1974 but at that time Martin McGuinness' IRA career was really only beginning.

When Adams and other leaders were released from Long Kesh in the mid and late 1970's they had a plan to restructure and revive an IRA that was on the edge of defeat. A new Northern Command was created and McGuinness was made its first commander.

But in early 1978, Adams was arrested in the wake of the La Mon atrocity and McGuinness took his place as IRA Chief of Staff, the organisation's military commander, a role he played for the next four violent years.

In 1982 he stood down to be a Sinn Fein candidate in elections to the Prior Assembly but a couple of years later, when the first consignments of Libyan weaponry arrived in Ireland, the IRA leadership was restructured and McGuinness was made Northern Commander again, the second time in his career.

The years of his stewardship of the IRA would see the organisation's fortunes transformed. From the verge of defeat in the mid-1970's the IRA recovered to once again be a player in Northern Ireland politics. It was never again the force it was in the early 1970's but thanks in no small part to McGuinness' efforts nor could it be ignored.

That and the arrival of Libyan weapons, especially the explosive Semtex, made the peace process viable. As long as the IRA held those stocks of arms the British had a reason to seek a deal.

McGuinness would remain as Northern Commander, overseeing and directing all IRA violence on the Northern side of the Border for the next fourteen years, until 1996 when he stood down in preparation for the Good Friday Agreement and the restoration of a government at Stormont.

From thereon his principal role was as the IRA's chief diplomat. As chairman of the Army Council he represented the organisation in all contacts with outside bodies and individuals, a role that grew in importance as the pace of the peace process accelerated.

Martin McGuinness' history as an IRA leader, twice as Northern Commander and once as Chief of Staff, would prove immensely valuable to his alter ego Gerry Adams. Not only did his record outshine Adams' but he was trusted, believed and liked more than the Belfast man. He had also 'done the business', participating in IRA operations, whereas Adams never did.

By himself it is doubtful whether Gerry Adams could have delivered the IRA into the peace process but with McGuinness by his side it became possible.

A measure of his value to the process came at a special IRA Convention, or delegate conference held in 1996, a few months after the breakdown of the 1994 ceasefire. Dissident opponents of the peace process were on the offensive, determined to torpedo the initiative, and for a while it looked as if they would succeed, isolating and defeating Adams and his allies.

As the delegates swayed towards revolt, and the fate of the peace process hung in the balance, Martin McGuinness got to his feet to speak. This is what I wrote about what happened next in 'A Secret History of the IRA':

'The old Army Council, (McGuinness) declared, had no intention of entering talks that would lead nowhere and had already decided there would not be a second ceasefire, and it would advise the incoming Council accordingly. It was as close as any leader came that night to declaring the peace process dead, and it swung the meeting.'

And so, the Adams leadership survived and with it the peace process. McGuinness had lied of course. The Provos would re-enter talks and there would be a second ceasefire but the delegates believed him because….well because he was Martin McGuinness, the man who had killed Mountbatten and approved Warrenpoint, who wanted to bury Pat Duffy and Caroline Moreland in secret graves, who had sent Patsy Gillespie and the Seftons to horrible deaths and lied to Frank Hegarty's aging mother.

Had Gerry Adams made the same speech the IRA might well still be at war.

Would any of this have been possible had Martin McGuinness not been the savage, duplicitous person that he was?

So back then to that philosopher's hat and the question I posed at the start of this article. Should Martin McGuinness' many sins be overlooked because, thanks to those sins, his life ended in almost complete contradiction to how it was lived, in a Northern Ireland that is more at peace than for many decades?

What, dear reader, do you think?

• Ed Moloney is author 'A Secret History of the IRA", 'Voices From The Grave' and 'Paisley – From Demagogue to Democrat?'

Gerry Adams at the funeral of Martin McGuinness on Thursday in Derry Pic: RollingNews.ie
Martin McGuinness's untimely death means that Sinn Féin and Gerry Adams will never be the same again
"He's a very cold person", remembered Freddie Scappaticci of Martin McGuinness. "He doesn't have friends in the IRA. He has what he calls 'comrades'".

Freddie Scappaticci is probably better known to the world outside the IRA as 'Steaknife', perhaps the most valuable double agent in the pay of British Intelligence during the Troubles.

At the time he made those remarks, 'Scap', as he was better known to his republican colleagues, had been stood down from his senior post in the Internal Security Unit, the IRA's feared spy-catchers, and was instead secretly helping Central Television's 'Cook Report' research a planned programme on the Derry IRA leader.

The conversation from which those remarks were plucked took place in the car park of the Culloden Hotel, near Holywood, Co Down, a plush area known as 'the gold coast' because of the wealth of many of its residents. The exchange was covertly taped by the TV team, then hidden away for many years at the request of the RUC but eventually published on YouTube.

Although some three years had passed since Scappaticci had been at the centre of the IRA, he still kept in touch. And as a senior figure in the 'nutting squad', as the security unit was sometimes called, he had had many dealings with McGuinness and knew him well.

There was an obvious follow-up question but it wasn't put to him: into which category did Gerry Adams fall? Was he a friend or a comrade? Adams himself, in his funeral oration at the republican plot in Derry's City cemetery on Thursday, covered both bases, mourning the loss 'of a dear friend and comrade'. But then he would.

Whatever the truth, Martin McGuinness' untimely death means that Sinn Fein and Gerry Adams will never be quite the same again, and that a new urgency has been injected into Adams' political ambitions in the South.

For best part of three decades, certainly since he swung the critical 1986 ard-fheis for Adams, persuading Sinn Fein delegates to drop Dail abstentionism with a speech that shrieked of unyielding IRA ferocity, the names Adams and McGuinness have gone together in the public mind like Lennon and McCartney or Morecambe and Wise. Take John Lennon or Eric Morecambe away and things are never quite the same again. Now it's just Gerry Adams.

As the media went into overdrive last week praising Martin McGuinness the peacemaker, it was impossible not to wonder what Gerry Adams made of it all. After all, he was the real architect of the IRA's peace strategy, the one who conceived it and launched it and here was McGuinness being lauded for his work. To be sure, McGuinness helped calm IRA nerves long enough to deliver two ceasefires and IRA decommissioning, but it would be Adams that the dissidents would come gunning for first.

Nor could it have escaped Gerry Adams' attention that McGuinness was well-liked and popular in a way he never was nor could ever be. Everyone up at Stormont, Unionists, Nationalists, government officials, doormen, they all called him 'Marty', like he was their favourite uncle. It is just not conceivable to imagine Gerry Adams on the receiving end of such endearment.

And while Adams' IRA past was constantly excavated by media and political enemies, McGuinness was mostly given or a bye ball, his excursion into the 2011 presidential election notwithstanding.

While Adams was excoriated for claiming he had never been in the IRA, McGuinness was praised for admitting his membership. The fact that the Derry man actually lied outrageously, claiming that he had left the IRA in 1974 when he didn't, was largely overlooked by the media as was the easily checked truth that in the mid to late 1970's his IRA career, as Chief of Staff and Northern Commander, was really only beginning, not ending.

Adams was constantly disparaged for his alleged role in IRA atrocities, from the disappearances of Jean McConville and others to the most recent war of words over the IRA murder of prison warder Brian Stack. But not McGuinness.

The Derry man's past was as murky as Adams' if not more so. He too had been directly involved in disappearing an alleged informer, a Derry man called Pat Duffy, a 37 year old father of seven, who was shot dead on McGuinness' orders and his body buried in a Co Donegal bog in 1973. Only when his neighbours and some of McGuinness' IRA comrades protested was Duffy's lime-covered corpse returned to his family. Yet who has heard of Pat Duffy?

Or Frank Hegarty, a Derry informer who fled to England but was lured back to an assassin's bullet when McGuinness, on bended knee according to one account, persuaded his mother to tell him that he would be safe if he returned to Ireland. A recent correspondent remarked about this killing: 'In the annals or armed republican history, I think this event is almost uniquely evil – to make a mother unwittingly complicit in the killing of her son.'

But it was only when McGuinness ventured southwards to run in the 2011 Presidential election that he got a taste of the vilification that Adams experiences on a regular basis. Vying with the DUP for power in Belfast bothered no-one in Dublin but threatening to disrupt a long established and comfortable power structure in Dail Eireann was an entirely different proposition.

The Sinn Fein strategy south of the Border seemed to be a clever one. While McGuinness would look after the North, Adams would move South at the opportune moment and steer the party into power, riding the party's peace process popularity into government. If all went to plan, Sinn Fein rear ends would soon be resting on seats around Cabinet tables on both sides of the Border. Not quite Irish unity but a massive achievement nonetheless.

Except it hasn't quite worked out like that. The DUP without the new Paisley has become like the DUP with the old Paisley, giving Sinn Fein little choice but to provoke a crisis and leave government. Martin McGuinness is now no more, his replacement is hardly in the same league and there seems little prospect of Stormont being repaired any time soon.

Nor has the Southern strategy worked to plan, or rather it has not worked as quickly or effectively as Adams and his advisers would have wished. Growth has been steady but hardly dramatic. Five Dail seats in 2002, four in 2007, fourteen in 2011 and 23 in 2016; the collapse in the Fianna Fail vote post the 2008 crash, from 41.6 per cent share in 2007 to 17.4 in 2011 did not translate into proportionate Sinn Fein gains. And under Micheal Martin, FF has gradually recovered lost ground, disappointing those who predicted the party would be swallowed by Sinn Fein.

Meanwhile time passes and time is not on Gerry Adams' side. This October he will be 69 years old, thirty-five of them spent at the head of Sinn Fein and still not a day spent at a ministerial desk. Martin McGuinness' sudden departure has to be an uncomfortable reminder of his own mortality and his failure, so far, to make a lasting mark on Southern politics.

Ironically some of the auguries are encouraging. Sinn Fein's electoral performance in the recent Northern election could translate into a bounce further South, especially if Adams, who is leading his party negotiations in Belfast to restore Stormont, can stabilise the peace process and repair relations with Arlene Foster. There's nothing like a bit of statesmanship to polish the image.

The Brexit vote in the UK and the likely damage it could cause in both parts of Ireland has kindled anti-British sentiment on both sides of the Border, creating fertile conditions for Sinn Fein should Enda Kenny's anticipated departure force a general election. Not coincidentally the recent outburst of united Ireland sentiment is remarkable for the fact that so much of it is emanating from south of the Border. A good sign for SF.

And Sinn Fein has lowered its expectations accordingly, signaling to potential partners that it will now be happy to enter government as a minority partner. Better to be deputy to the Taoiseach than nothing at all.

Gerry Adams badly needs to get into government in Dublin. That will be his mark on history. Martin McGuinness' premature departure is a blunt reminder to the Sinn Fein president that opportunities knock rarely at anyone's door. When they do, they should be grasped, quickly and firmly.