If you look at the five photos below of the members of the new British Freedom of Information Commission, the guy in the middle might be familiar to you. He is Lord Carlile and if his name strikes a bell it is because he also sits on the Three Monkeys commission in Belfast which has been charged with finding a way to greenlight Sinn Fein's re-acceptance by the DUP as a partner in government in the wake of the Kevin McGuigan killing.
Lord Carlile seems to be one of the establishment's most favoured candidates for this type of job and his services are apparently in constant demand. While drafting new Freedom of Information regulations, he also does work for the PSNI/MI5 as the one-man court of appeal for judges, lawyers and the like who have had their police guards withdrawn.
And of course he will be expected to devise a form of wording to rescue the power-sharing government in Belfast, wording that somehow embraces two fundamentally conflicting propositions: that the IRA exists and killed Kevin McGuigan, but that the control freaks of Sinn Fein knew nothing about it.
He has got a similar job on his hands with the new Freedom of Information regulations, namely how to claim that the Cameron government is of course committed to less government secrecy while hatching plans to charge fees for FoI requests, the effect of which, naturally, will be to deter a lot of people from filing requests for secret information.
Yesterday's embarrassing press conference, hosted by the FoI commission in London, as reported in The Guardian, does not bode well for those hoping for the truth about the death of Kevin McGuigan and those who killed him, ordered his death or gave approval to it happening. Journalists attending the commission's very first press conference  were instructed not to report who was there or what they said.
Consider that a dry run for the Three Monkeys' report later this month.
Freedom of information commission not very free with its information
Source reveals cross-party commission is mulling charging for FoI requests after bizarre parliamentary briefing that members insisted must be off the record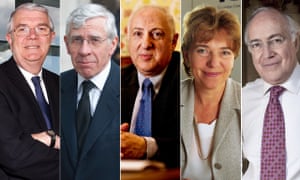 The government-appointed body reviewing the Freedom of Information Act has held its first official briefing – but journalists were asked not to disclose who was there or attribute what they said.

Sources at the Independent Commission on Freedom of Information meeting disclosed that the cross-party group will consider introducing charges for applications for information for the first time.

But officials at the bizarre briefing in the Houses of Parliament asked journalists to keep it "off the record" and not quote the individuals present, despite requests to the contrary.

The meeting, attended by six journalists, was held by the commission to launch a public call for evidence after being set up in July by the Conservative minister Matthew Hancock to decide whether the act is too expensive and overly intrusive.

The committee has been heavily criticised for being an establishment "stitch-up" to neuter the work of journalists, campaigners and members of the public.

The five-member committee includes Jack Straw, the former foreign secretary, who is already on the record calling for the act to be rewritten; Lord Carlile of Berriew, who accused the Guardian of "a criminal act" when it published stories using National Security Agency material leaked by Edward Snowden; Lord Howard, whose gardening expenses were criticised after being exposed following FoI requests; and Dame Patricia Hodgson, the deputy chair of Ofcom, which has criticised the act for its "chilling effect" on government.

It is chaired by Lord Burns, the former chair of Channel 4 and a former permanent secretary to the treasury. Under the terms of the briefing, the Guardian cannot disclose which members of the committee, if any, were present.

Jack Straw, the former foreign secretary, is on the commission. Photograph: Justin Tallis/AFP/Getty Images

At the briefing, sources close to the commission defended its members. "It was put together by the government. Members of the committee have been asked to be as open minded as possible. They are distinguished in their field," the source said.

It was conceded by the source that the commission's members had not submitted requests for information. "What is true is that most people who are on the committee have been the subject of FoI requests rather than made FoI requests," the source said.

"Our aim is to be as open as possible," the source continued. However, the committee source could not explain why the committee itself was not open to FoI requests and declined requests to publish transcripts of its meetings. Parties who wish to submit evidence with regards to the proposed charges for FoI requests have a deadline of 20 November to present their findings to the commission.

The source said he is confident that the commission can read all the evidence, discuss it, come to a conclusion, write a report, and print that report by the time parliament rises on 17 December, twenty working days after the deadline.

The source insisted that the commission has not come to any firm views and is open to go where the evidence leads. The source also said that Hodgson had "nothing to do" with Ofcom's criticisms of the FoI act.

Both Labour and the Liberal Democrats have made clear that they are unhappy that Straw and Carlile chose to serve. Both parties have pointed out that they chose to take part in a personal capacity and are not representing the views of their parties, which both believe the act should remain as it is.

There is concern that charges could be as much as £20 per request. Campaigners said that when Ireland introduced a €15 charge the number of requests dropped by almost a half and led to criticism from the country's Freedom of Information commissioner. The fee was eventually dropped – though there remains a cost for appealing decisions.

At present, anyone can ask for information so long as finding it does not cost more than £600 in the case of a government department, and £450 for another public body.

Maurice Frankel, director of the Campaign for Freedom of Information, said: "We would be very worried about that. For most people a single charge for a single request might not be a problem, except for people on low incomes.

"But the problem is that many people legitimately need to make more than a single request.

"It would make the act inaccessible for individual requesters and small and medium organisations as well as for freelance journalists."