'Softly, Softly Catchee Monkee', should have been the motto for Sinn Fein's peace process strategy, if you think about it. You know how it goes: mention an unmentionable enough times, people get used to it and soon enough the unthinkable becomes the doable.
The 1994 ceasefire was arranged in that way, repeated mentions along with denials that it would happen, giving way to a grudging acceptance of its inevitability and eventually delivered in a way that kept most of the faithful on board. So was power-sharing at Stormont and compliance with the consent principle, the acceptance of the PSNI and, of course, IRA decommissioning.
So forgive old cynical me if I see a little bit of the same in Mary Lou McDonald's weekend interview with The Journal in which she floats the idea of Ireland 're-joining' the British Commonwealth. Ireland quit in 1949 when the 26 counties declared themselves a republic. See below.
Now the British Commonwealth is headed by the British monarch of the day so I am wondering if it is entirely a coincidence that nearly every British royal who visits Ireland these days, especially south of the Border, gets to meet a leading Shinner.
Gerry Kelly, former IRA Adjutant-General (No 2 in the IRA hierarchy) and London bomber being the latest. Just a thought. You know how it goes: the more Royals the Shinners are seen with the more acceptable becomes the idea of rejoining the Commonwealth. Or am I taking a step too far?
Mary Lou McDonald: The idea of Ireland rejoining the Commonwealth needs to be discussed
The Sinn Féin leader said the Irish government must start to put plans in place for a united Ireland.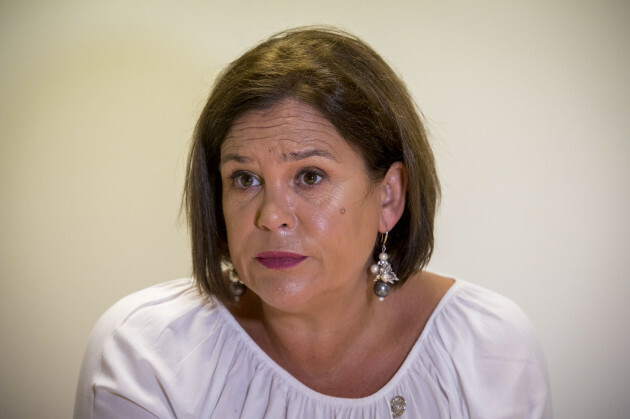 Sinn Féin party leader Mary Lou McDonald Source: PA Wire/PA Images
MARY LOU MCDONALD has said she is open to discussions on Ireland rejoining the Commonwealth.

In an interview with TheJournal.ie, the Sinn Féin leader said there must be an open debate in order to encourage unionists to participate in a discussion about a united Ireland.

McDonald said she cannot call for an openness, and then censor voices before the debate has begun.

"You can hardly make that call and then say 'we are not going to discuss any particular item'. And there are some people who think that rejoining the Commonwealth is a worthy proposition.

"I think those that hold that view need to put that view forward, and I think it needs to be looked at, and debated, and it needs to be discussed.

"It is not a proposition that I would be advancing – but I am me. This is not all about Sinn Féin. This is much bigger than us. The debate has to have the capacity to put everything on the table and then the business of debate and discussion in a reflective way, not a divisive way," she said.

The idea of Ireland rejoining the Commonwealth has been floated by a number of politicians, such as Fine Gael Senator Frank Feighan who argues that it would promote Ireland's values to a global audience, while strengthening and growing important economic and cultural ties internationally.

United Ireland 

McDonald also said the Irish government needs to take the lead in the debate about a united Ireland and start making plans about how it might be achieved.

"I am firmly of the view that we are now on the way to a unity referendum. I think the genie is out of the bottle. I think the discussion around a new Ireland, how we might get there, and what it might look like is already underway."

She said she is "conscious that Brexit is a very bad thing for Ireland", adding that "for us to have a debate around the new Ireland and to have a referendum poll, obviously a chaotic Brexit is not the ideal music for that to happen".

However, she added that she in no way thinks Brexit means a border poll should be put on the back-burner.
I am not arguing for a delay. I am an Irish republican, I am the leader of Sinn Fein, I want us to achieve Irish unity and I want us to do it as soon as we can and I know for that to happen we need space and the best atmosphere we can have in which to have that debate.
But, if the Tories insist on crashing out of Europe, and take the north of Ireland out of the European Union "in chaotic manner", then the next question to be asked is the Constitutional one, said McDonald.

A border poll

Last week, she said "the time for a unity referendum is drawing near ". This comment came just days after an interview where she commented that a "crash Brexit" would not be the time to look at a border poll or a united Ireland.

"The Constitutional question [of a border poll on a united Ireland] would have to be put – there is no way the Tories could inflict that level of disorder, of uncertainty, and damage on the island of Ireland and imagine that they are not going to put the Constitutional question.

"But it does not represent the optimal atmosphere in which to have the discussion and debate, so that was the point I was making," said the Dublin Central TD.

Sinn Féin have already set out a five-year timeframe for when they believe a border poll should be held, but McDonald said she, nor anyone else, is in a position to guess the exact date.

Before a border poll takes place, detailed plans and discussions need to be organised, something the Irish government must act on now, said the party leader.
The government in Dublin have a particular responsibility for that. We have argued for a long time that there ought to be an Oireachtas committee on Irish unity, that we need to see a green paper on Irish unity. The time for planning and really putting the ideas on that table is now and the government here needs to lead on that.
Her comments come just a few short weeks after the former leader of the DUP Peter Robinson said he believed Northern Ireland should prepare for the possibility of Irish unity, though he said he did not think Northern Ireland will want to leave.

The voices of unionism

McDonald said it is "very important that unionism finds its space, finds its voice and follows the advice of Peter Robinson and takes its head out of the sand".

Unionism needs to set out "their wishes, their ideas, their ambitions – all of that needs to get underway", she added.

McDonald denied some of the comments made by Fine Gael and Fianna Fáil politicians that a border poll would be divisive.

"The change is in the air, and coming this way, it cannot be ignored, it can't be denied, it can't be delayed, in my view. I have heard a lot of people say that the poll on unity would be divisive, it would be dangerous, it is one of these issues that is 'too hot to handle'. I don't accept that," said the party leader, adding that she believes the debate will be "liberating" and  "invigorating".

"We have to ask, in the national interest, in the interest of people right across the country, what is the next move and the next move post-Brexit is to re-fashion Ireland on a 32 county basis.

"It is big challenge, it is a huge job of work, it is a job for all of us."